É ótimo podermos partilhar com quem mais gostamos, mas há determinados produtos de beleza que não podem nem devem ser partilhados, para o bem da nossa saúde. Alguns provavelmente já sabem, outros continuam a partilhar, saibam quais não podem partilhar nem com a vossa melhor amiga: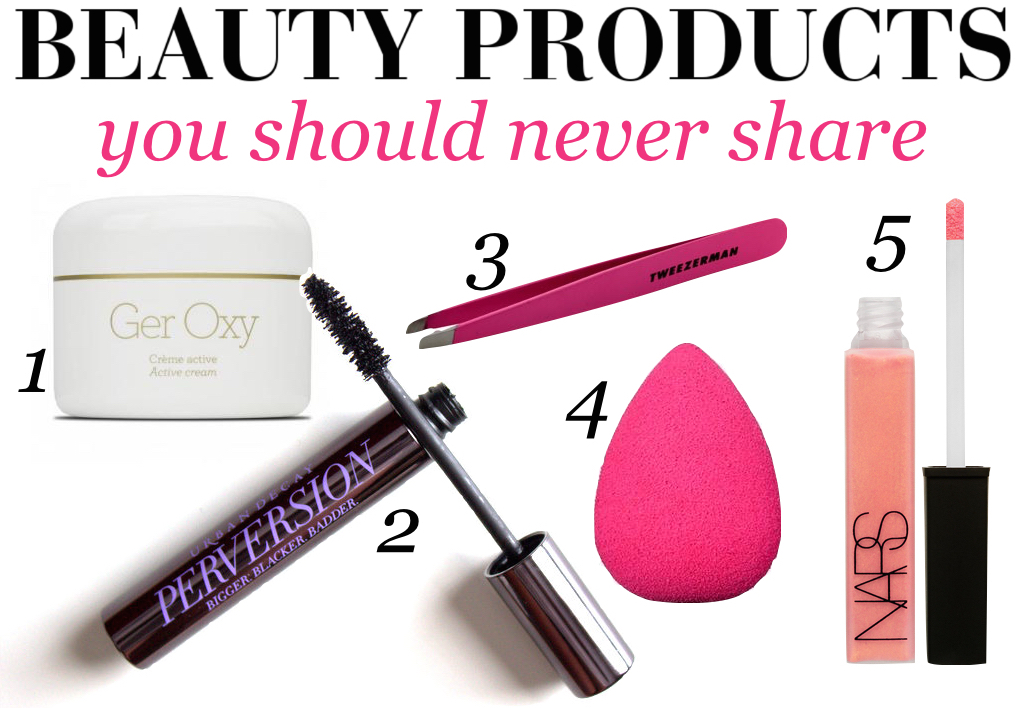 1. BOIÃO DO CREME – cada vez que retiramos um pouco de creme estamos a contaminar o produto, especialmente se for usado por várias pessoas. Por alguma razão existem aquelas pequenas espátulas, sabem? Mesmo que o produto seja usado só por uma pessoa, o ideal é usar sempre estas espátulas.
2. MÁSCARA DE PESTANAS – se querem evitar irritações oculares, herpes, inflamações na zona dos olhos etc não partilhem a vossa máscara de pestanas. Mesmo que os olhos da vossa melhor amiga estejam totalmente impecáveis, não vale a pena correr o risco – nem para vocês nem para ela.
3. PINÇA – mais uma vez, uma grande fonte de possíveis infeções, se partilharem este aliado de beleza com outra pessoa. A pinça pode ficar contaminada por alguma razão e facilmente infetar. Dica importante: quando forem arranjar as sobrancelhas fora, certifiquem-se que este instrumento é muitíssimo bem limpo.
4. ESPONJA DE MAQUILHAGEM – talvez dos produtos que mais facilmente contém bactérias, que podem provocar infeções no rosto. Não partilhem nem com a irmã, a base pode ser aplicada até com as mãos e não vale a pena correrem riscos desnecessários. Devem ainda lavar a esponja regularmente, para que não corram riscos, mesmo que não partilhem, já que o produto molhado é uma grande fonte de germes.
5. LIP GLOSS – é certo que, a certa altura da nossa vida, já partilhámos um batom ou gloss com uma amiga, verdade? Qualquer produto que aplicamos nos lábios pode ser uma fonte de infeções, por isso também nunca devemos aplicar nos lábios os batons nas perfumarias.
_______
It's great when we can share good things with the ones we love, but there are a few beauty products you should never share. See which ones:
1. CREAM POT – dipping your fingers into a pot of cream is a recipe for germs, especially when you introduce a new set of hands. Even when used only by you, you should use a little scoop every time.
2. MASCARA – Eyelids and lashes are home to a host of bacteria, which can make mascara a dish for viruses that cause pink eye, herpes simplex, inflammations, etc. Don't take the risk!
3. TWEEZER – sharing this beauty tool could put you at risk for bacterial infections, so never share it. Be careful if you get your eyebrows done at the saloon, make sure the tool is perfectly clean.
4. MAKEUP SPONGE – this is one of the worst offenders to out skin, especially when shared. The product when wet creates an environment for bacteria and germs.
5. LIP GLOSS – at any time, all of us had already shared a lip gloss with a friend, right? Pay attention, because everything we put on our lips can be a source of infections. That's why we shall never try lipsticks on beauty stores.