Para quem quer descansar a pele de parabenos e quimícos há marcas que apostam em ingredientes naturais e minerais nas suas fórmulas sem comprometer tudo aquilo que gostamos de ter numa maquilhagem: qualidade, durabilidade e cor!A maquilhagem mineral inclui cosméticos feitos à base de minerais 100% puros, que incluem mica, dióxido de titânio, filtros solares, entre outros e que são extraídos da terra de forma natural, sem qualquer tipo de ingredientes sintéticos prejudiciais para a saúde. Já experimentaram?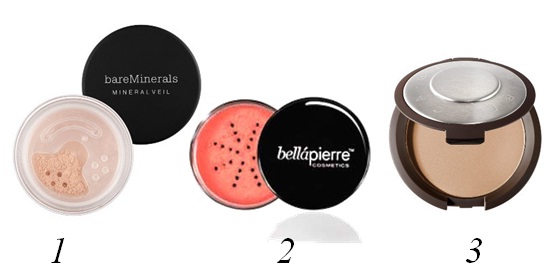 1. Mineral Veil, Bare Minerals (à venda na Sephora) 2. Mineral Blush, Bellápierre  3. Perfect Skin Mineral Powder Foundation, Becca (na Skinlife).
_____
For those who want to rest the skin of parabens and chemical there are brands who bet on natural and mineral ingredients in their formulas without compromising all that you apreciate in makeup: quality, durability and color!The mineral makeup includes cosmetics made based on 100% pure minerals, including mica, titanium dioxide, sunscreens, among others, which are extracted from the earth naturally, without any harmful synthetic ingredients to health. Have you ever tried?