Há produtos que ajudam a melhorar a performance de cada creme, sabiam? Seja para acabar com a celulite, deixar o nosso cabelo impecável ou a pele do rosto resplandecente! Curiosas?Continuem a ler :)__The best beauty gadgets to try on! Give your skin a chance!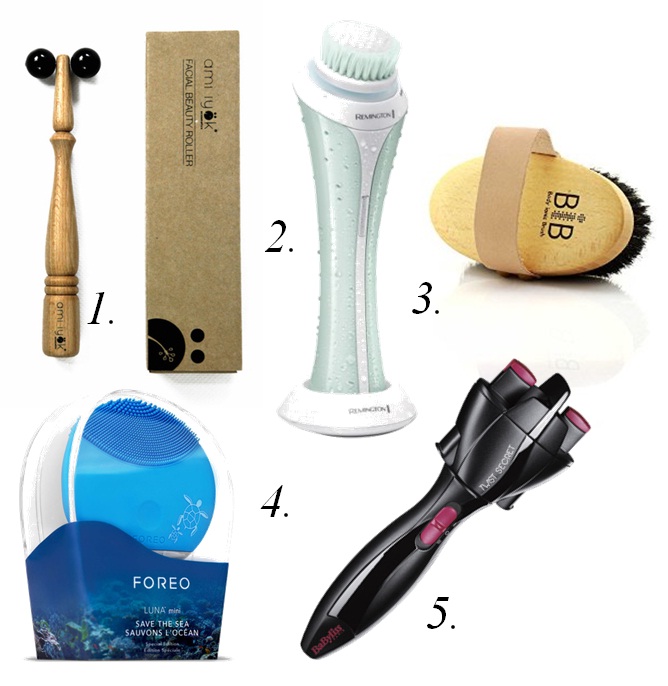 1. Facial Beauty Roller. Retém o calor  e bloqueia as energias negativas da nossa pele, relaxando os músculos e melhorando a circulação sanguínea.  Nunca usei, mas estou muito curiosa para experimentar!2. Reveal, Remington. Com 3 velocidades e 3 cabeças de escovas: uma para peles normais, mistas ou oleosas, outra para peles sensíveis e outra para massagem do rosto revitalizar a pele cansada, pode ser usada até durante o duche. Há também a possibilidade de adquirir uma quarta escova à parte – a escova para exfoliação – para uma limpeza ainda mais profunda.3. Body Ionic Brush, Nature´s Invitation. Feita a partir de materiais sustentáveis, esta escova melhora a circulação, limpa e desintoxica a pele, ajuda a reduzir a celulite, tudo sem recursos a químicos e da forma mais natural possível.4. Luna Foreo. Esta uma edição especial dedicada aos Oceanos. Em vez de escovas, a Luna tem micro saliências em silicone muito macias que, ao vibrarem promovem a retirada da sujidade e das impurezas da pele. Assim, não acumula bactérias, nem necessita de mudanças de escova frequentes. Também pode ser usada para aplicar creme ou massajar o rosto. Existem várias para cada tipo de pele.5. Twist secret, Babyliss. A grande inovação deste ano que permite tranças das mais variadas formas colocando apenas o cabelo no aparelho! Não vi ao vivo, mas os vídeos que vi parecem-me interessantes.
___
1. Facial Beauty Roller. Obsidian is a volcanic rock used in pre-Columbian era and it is associated to protection and strength. It retains the heat and it can block negative energies, relax facial muscles and improve blood circulation and drainage. It is de perfect complement for a facial massage based in Slow Ageing.2.  Reveal Remington. The brush head features dual action rotating and vibrating technology to optimise the cleansing process. In addition, this beauty gadget comes complete with a one-minute timer, which gently pulses every 20-seconds to help you move from one area of the face to another for deep, thorough cleansing of the skin. With three speeds, you can also select your preferred setting to ensure you are in complete control at all times.3. Body Ionic Brush, Nature´s Invitation. Boost circulation, deeply cleanse and detoxify skin. 4. Luna , Foreo. combines sophisticated T-Sonic technology with a soft, silicone brush for deep yet gentle cleansing that helps to improve the absorption of skincare products.5. Twist secret, Babyliss. The new innovation that gives the possibility to make braids in a very easy and simple way.