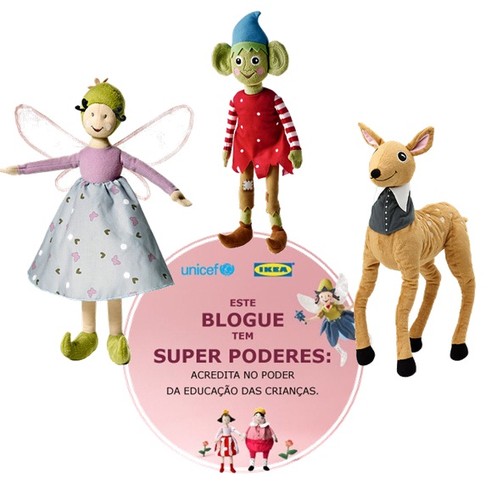 Nunca é demais lembrar que também vocês podem aderir à campanha de solidariedade do IKEA e contribuir para os programas de educação geridos pela UNICEF e Save The Children em todo o mundo.
Até dia 27 de Dezembro, por cada peluche ou livro infantil vendidos nas lojas IKEA, a IKEA Foundation doa 1€ para estes programas, ajudando assim as crianças que vivem em grande pobreza nos países em desenvolvimento.
Esta campanha da IKEA Foundation começou há 10 anos e desde essa altura já angariou 57 milhões de euros, ajudando mais de 10 milhões de crianças em 46 países!
Podem contribuir de várias formas: comprando os peluches, clicando  AQUI ou no banner da campanha que se encontra na lateral aqui do blog. Por cada 500 cliques no selo vamos estar a contribuir com um peluche para a campanha de Peluches e a IKEA Foundation contribui com 1€ para a UNICEF e Save The Children. Isto quer dizer que quanto mais clicarmos, mais ajuda chega a estas crianças!
Não custa mesmo nada! 😉
Contamos com vocês! Toca a CLICAR!
Vejam aqui todos os peluches e informação detalhada sobre esta campanha 😉