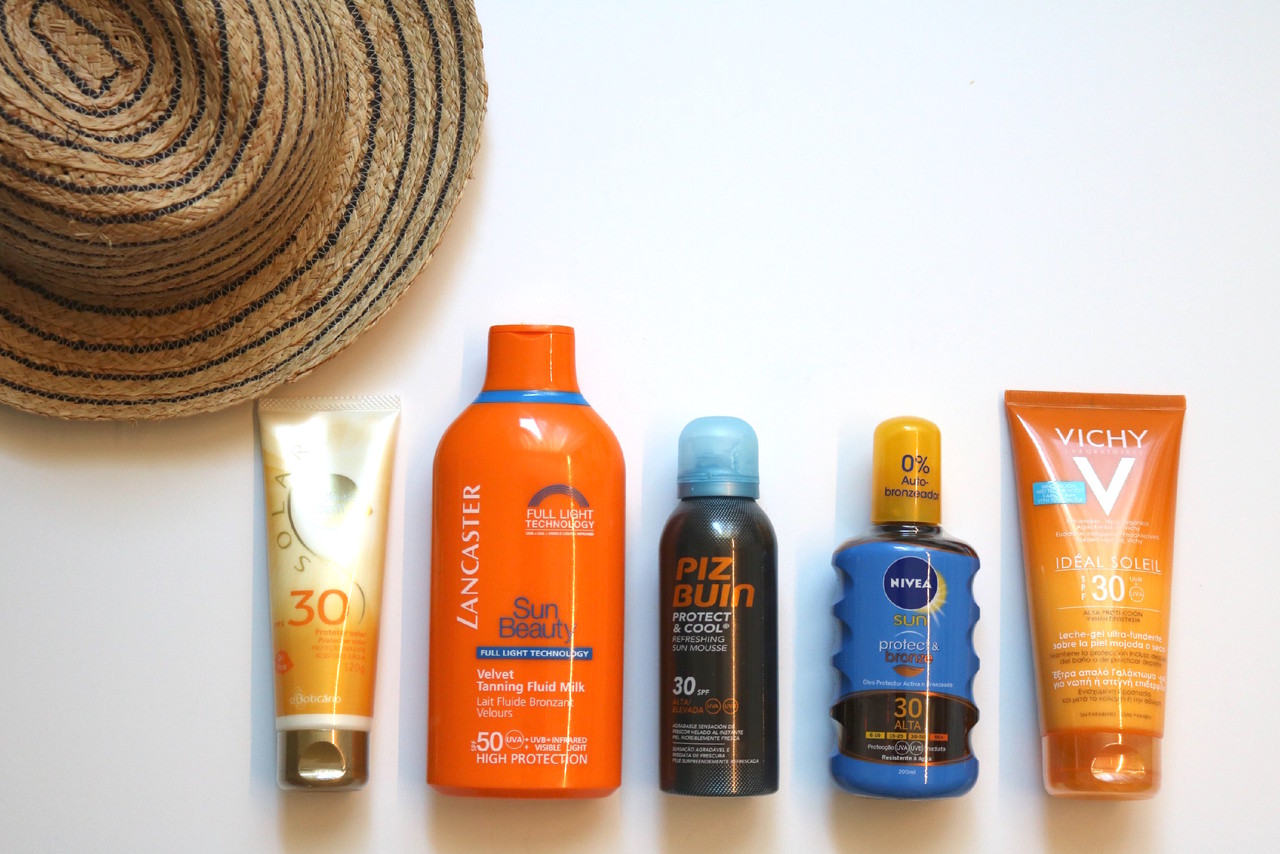 Ir para a praia sem protetor solar é uma inconsciência brutal hoje em dia.
Se vos disser que no outro dia vi uma miúda na praia a "besuntar-se" de óleo Johnson, até custa a acreditar não é? Mas juro que é verdade! Senti-me tão mal a ver aquilo e queria imenso ir lá explicar-lhe que não podia fazer aquilo, pela saúde dela, mas confesso que não tive lata. Se vir novamente, juro que vou! :/
Adoro o óleo Johnson, mas para passar depois do banho, em casa! É ótimo para hidratar a pele, mas JAMAIS ao sol! Credo!
Enfim…
Aqui ficam alguns protetores solares para este verão – especialmente para o corpo. Os de rosto já mostrei aqui – cliquem para ver 🙂
Da esquerda para a direita:
1. Cuide-se Bem, FPS30 O BOTICÁRIO – com uma fórmula resistente à àgua e uma textura suave e de fácil absorção na pele. Está em promoção neste momento, aqui. Convém secar primeiro a pele antes de re-aplicar quando sairem do banho.
2. Sun Beauty FPS50 LANCASTER – perfeito para os primeiros dias de praia, no meu caso. Apesar de até ser meia branquela, bronzeio-me com alguma facilidade sem escaldões (porque protejo, obviamente!) e depois passo para um FPS30. Este protege bem, espalha-se uito facilmente, a embalagem é tipo familiar – dura bem umas 2 semanas de férias!
3. Protect & Cool FPS30 PIZ BUIN – Uma mousse em spray, a textura é semelhante a uma espuma de barbear. Espalha-se muito facilmente, é super refrescante e o meu já acabou! O João amou e já comprou a segunda embalagem para levar nas férias! Todos os nossos amigos que experimentaram na praia ficaram fãs – por isso o nosso se gastou tão rápido!
4. NIVEA Sun Protect & Bronze FPS30 – um óleo que não cola e deixa um bronzeado bem bonito (muito característico dos protetores solares da marca). 
5. Idéalia Soleil FPS30 VICHY – este confesso que ainda não usei na praia este ano, mas a textura é ótima e o cheiro super agradável. Podemos aplicar sobre a pele molhada ou seca 🙂
Comigo os protetores solares nunca duram muito tempo, porque aplico mil vezes durante o dia. Assim, para além de nos mantermos protegidas, a nossa pele fica hidratada 🙂
Ahhh e não se esqueçam de aplicar sempre antes de sairem de casa para a praia ou piscina 🙂
São uns meses durante o ano e se há coisa que não vale poupar é no protetor solar, ok?
Bom domingo e boa praia!
___
Going to the beach without a sunscreen is totally unconscious nowadays!
The other day I saw a girl at the beach using Johnson's oil … really?? It is totally unconscious and so dangerous for the skin and health! Please do not do this! The product is amazing, but to be applied at home, after the shower, never in the sun!
Here are some body sunscreens to have around during this summer – I've already written about the face sunscreens here, click and know them all.
1. Cuide-se Bem, SPF30 O BOTICÁRIO – with a water resistant formula and soft texture, this product is on promotion now here. Dry your skin before applying it at the beach,
2. Sun Beauty SPF50 LANCASTER – perfect for the first days at eht beach, at least for me. I always protect my skin obviously, but SPF50 only on the first days, then I switch to SPF30 on my body (on the face I always use SPF50, all year long!). The texture is milky and quite easy to apply.
3. Protect & Cool SPF30 PIZ BUIN – a spray mousse, almost like a shaving cream texture (quite fun though!), this is my husband's favorite. Super refreshing as well! Our is already over and João already bought another one for holidays.
4. NIVEA Sun Protect & Bronze SPF30 – a dry oil that leaves a gorgeous tan on your skin. Super easy to apply.
5. Idéalia Soleil SPF30 VICHY – this particular one I haven't tried already, but I can tell you the texture and smell are great! This can be applied on dry or wet skin.
With me, SPFs never last too long, I apply them so many times during the day! It's the only way to be protected from the sun during summer season and mantain our skin properly moisturized.
 Do not forget to apply everyday before leaving home.
If there is something you cannot save money in the summer that thing is sunscreen!
Have a great sunday and keep you protected from the sun!
Instagram @styleitup // Snapchat @styleitup.mag