Maquilhagem natural + iluminador dá aquele aspeto natural e muito fresco que todas procuramos.
Existem muitos no mercado, com diferentes texturas: em pó, em creme ou em forma de caneta.
EM PÓ: com a ajuda de um pincel, passar o produto desde o final das maçãs do rosto até às têmporas. Pode ser usado também no canto interno do olho.
EM CREME: aplicar com a ajuda dos dedos, no final de toda a maquilhagem.
EM CANETA: normalmente não tem pigmentos de brilho, por isso pode ser usada como um corretor. Aplicar na zona das olheiras ou no contorno dos lábios, para realçar mais o batom e o formato da boca.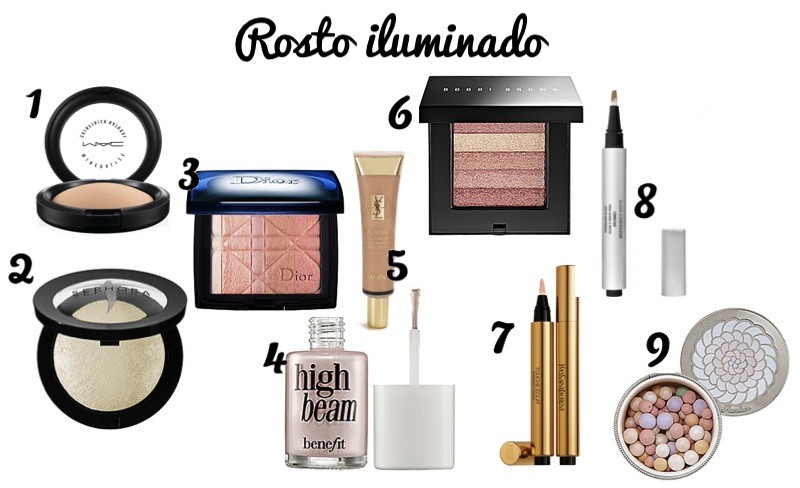 1. Mineralie Skinfinish Natural da MAC | 2. Microsmooth Luminizer da SEPHORA | 3. Diorskin Shimmer star da DIOR | 4. High Beam da BENEFIT | 5. Dare to Glow SAINT LAURENT | 6. Shimmer Brick – Nectar da BOBBI BROWN | 7. Touche Éclat, SAINT LAURENT | 8. Flash Iluminador Make B d'O BOTICÁRIO | 9. Météorites Powder for the face da GUERLAIN 
DICA: tons mais claros ficam melhor em peles claras e tons mais dourados em peles mais morenas. Para as negras, o bronze é o mais indicado.
Qual o vosso preferido?