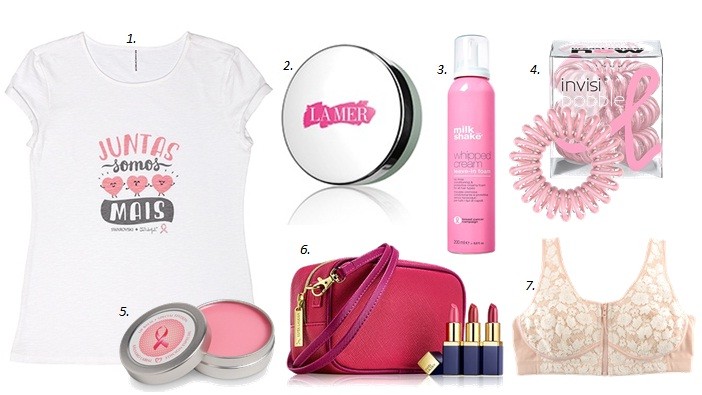 Outubro é o mês de consciencializar todas as mulheres para a prevenção contra o cancro da mama, que aumenta de forma assutadora ano após ano! A sensibilização passa muito pela prevenção, fazendo exames regulares e através de acompanhamento médico. Para que esta luta ganhe ainda mais força no mundo, algumas marcas criam todos os anos, edições especiais, cujas receitas revertem a favor desta causa. Conheçam algumas delas: 
 1. T-shirt solidária "Juntas somos mais" Swarovski + Mr. Wonderful. Todas as receitas revertem a favor da Laço.(26€) 2. Lip Balm La Mer. Edição especial (60€) (disponível no El Corte Inglès) 3. Milk_shake z.one concept. Por cada produto vendido, €1 reverte a favor da Liga Portugiesa Contra o Cancro 4. Elásticos Invisibobble. Edição especial 5. Lip balm, Eaquivalenza. Edição especial na luta contra o cancro (4,95€) 6. Clutch com 3 mini batons Evelyn Lauder and Elizabth Hurley Dream Pink Collection. 7.Soutien Stella McCartne. Os lucros conseguidos com a venda de lingerie revertem para o Linda McCartney Centre que apoia a luta contra o cancro da mama.
__
October is Breast Cancer Awareness Month, which is an annual campaign to increase awareness of the disease that is growing year after year.
So shop for a cause with beauty and fashion goodies that give back.

Instagram: @styleitup.cat