Dia de casamento e lembrei-me de falar num tema que é muito falado entre as mulheres nestas ocasiões: o que é que trazes aí?
Nestes eventos, pouco ou nada cabe para além do telemóvel e as chaves do carro. Quais os produtos de maquilhagem que considero essenciais para estas ocasiões e que vão sempre comigo?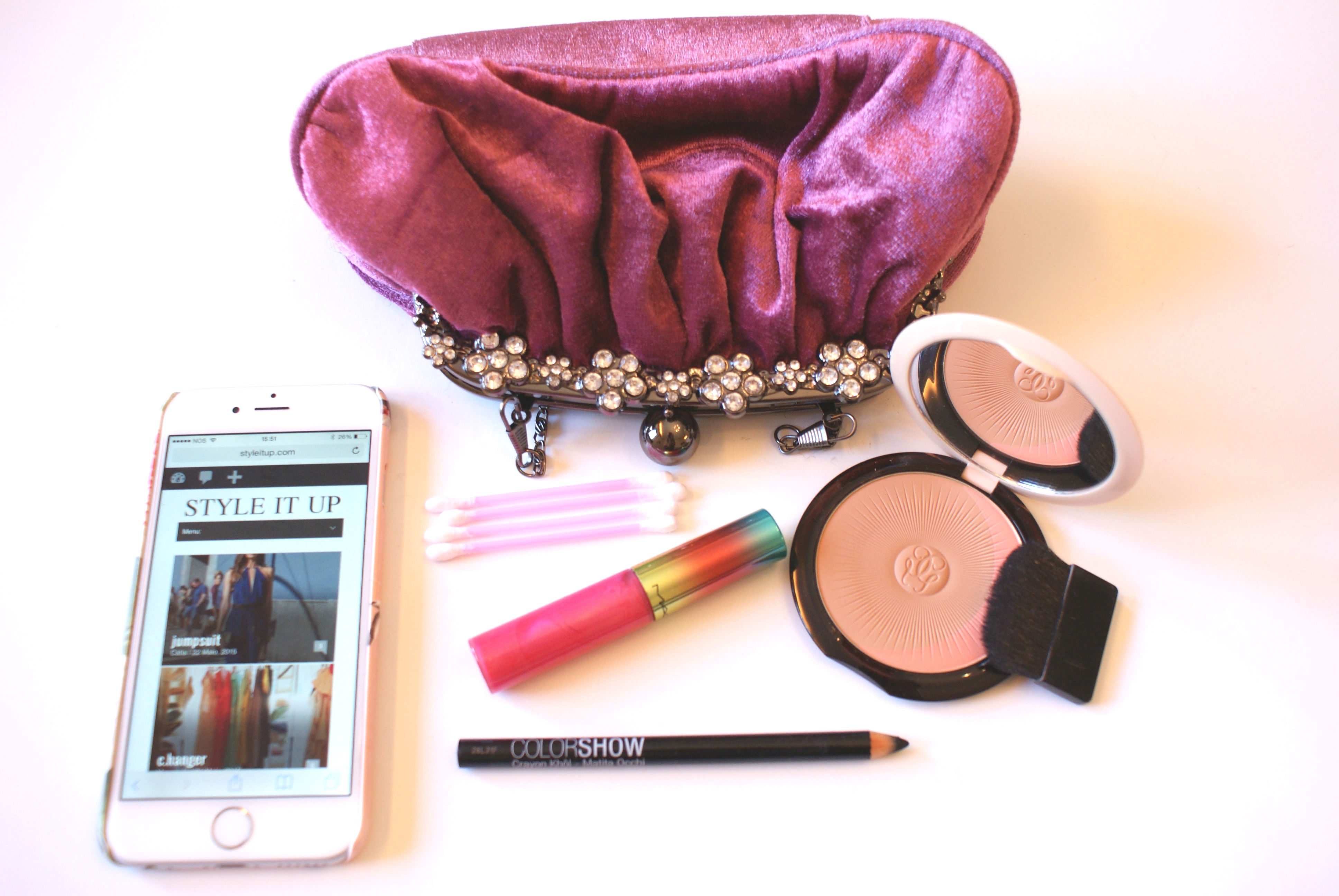 Clutch edição especial Benefit para Sephora (antiga) // Capa iPhone 6 Virgu
1. BATOM ou GLOSS – podem optar por um batom de longa duração (daqueles que nem depois de vários copos e algumas gulodices saem dos lábios!) e levar apenas um gloss para dar um pouco de brilho. Lembrem-se que não podem levar tudo. Minimalismo é tudo neste caso! Na imagem, o gloss é o Domestic Diva da MAC.
2. COTONETES – para pequenos retoques que sejam necessários. Às vezes cai uma lagrimazita ou outra na igreja (de alegria, claro!) e a maquilhagem fica toda borrada para o resto da festa. Não há necessidade. Até podem aproveitar aquelas jaquetas com duas ou três que normalmente estão disponíveis nos hotéis, dão um jeitão nestas ocasiões!
3. LÁPIS DE OLHOS – Para retocar ou intensificar um pouco mais o olhar e ficar sempre bem em todas as fotos da festa. Na imagem Crayon Khôl Color Show da MAYBELLINE NY.
4. PÓ BRONZEADOR / BLUSH – para matificar um pouco e dar aquela cor cheia de saúde nas maçãs do rosto. Na imagem, Terracotta Joli Teint 03 da GUERLAIN
Para além destes, se tiverem a pele oleosa, considerem toalhitas deste género.
_____
Attending a wedding or other party, we naturally carry a clutch with us, with few space for more than the mobile and car keys, right? Here are the beauty essentials I consider to carry with us in these occasions: Lipstick or gloss (depending on which you prefer) // bronzing powder or blush // eye pencil // cotton swabs
Remember to keep it simple and take the least products you can so that little touches can be made without carrying all your makeup kit with you.
Instagram @styleitup