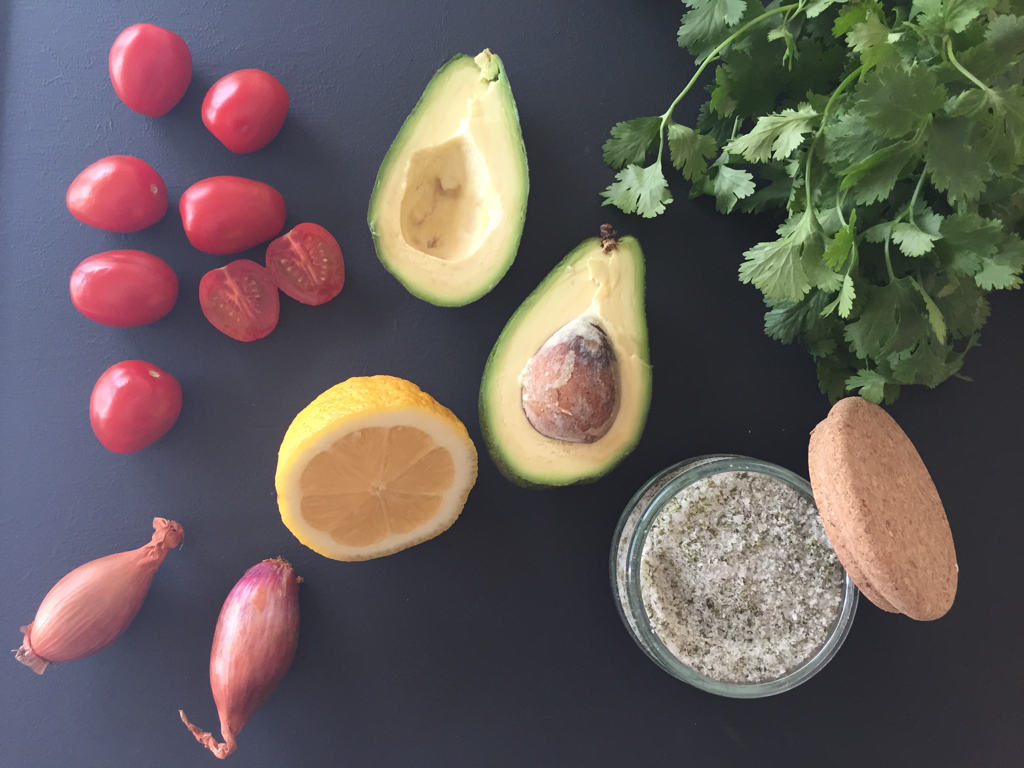 Sou completamente viciada em guacamole. Sou capaz de acompanhar com qualquer prato de carne ou peixe – foi o que fiz neste fim-de-semana, dourada ao sal com guacamole! 🙂 Já não me lembrava muito bem da receita e fui inventando, acho que o o melhor guacamole que já fiz e toda a gente adorou! É o acompanhamento perfeito quando não temos muito tempo e queremos comer algo saudável e rápido. Também fica maravilhoso em tostinhas (adoro naquelas tostas de arroz, sabem?), como entrada ou para um snack a meio da tarde.
Ingredientes: 2 abacates maduros // 10 tomate cherry // 1 chalota // sal (usei flor de sal com algas) // sumo de limão // coentros
Preparação: Retirar o conteúdo do abacate para uma taça e esmagar com um garfo. Cortar o tomate aos quadradinhos, picar a chalota bem fininha, picar os coentros, acrescentar um pouco de flor de sal e umas gotas de sumo de limão. Misturar tudo e está pronto a servir.
 O abacate é rico em antioxidantes, omega 3 e fibra e vitaminas, para além de saciar bastante. Um prato simples e super saudável.
_______
I'm totally addicted to guacamole. It's the perfect side dish to fish or meat and quite easy and quickly to make, even when we are in a rush. It's also delicious with some toasts for a healthy snack. Avocados are super healthy, full of antioxidants, omega 3, vitamins and fibre. 
Ingredients: 2 avocados // 10 cherry tomatoes // a handful of fresh coriander // 1 small shallot // salt (I used salt flower) // a little bit of lemon juice
Preparation: scoop the avocados, remove the skin and stone. Mash it in a bowl with the help of a fork. Dice the cherry tomatoes and shallot into tiny cubes and chop the corianders. Add a little bit of salt and squeeze in the lemon. It's ready to serve.