Achavam que íamos deixar passar esta época Natalícia sem vos presentear com miminhos maravilhosos? 
Se achavam, estavam enganadas! ahah
Apresentamo-vos o MEGA PASSATEMPO DE NATAL STYLE IT UP: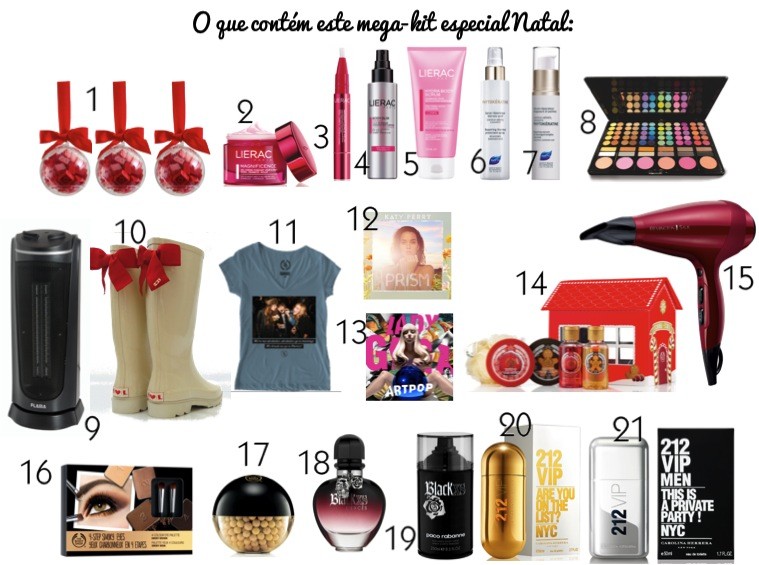 Atenção às regras do "jogo":
1. Deixem o vosso LIKE nas páginas de facebook STYLE IT UP, LIERAC, PHYTO, PB COSMETICS , REMINGTON, UNIVERSAL MUSIC, I LOVE GALOCHAS, FLAMA, BOOM BAP, THE BODY SHOP, BLACK XS, CAROLINA HERRERA 212 
2. Seguir o blog através do Bloglovin' AQUI
3. Enviem-nos uma foto (oi imagem, montagem…) que retrate o vosso espírito natalício para passatempo@styleitup.com com o máximo de 500k (a imagem tem que estar nas extensões .jpg ou .png) até dia 7 de Dezembro
4. As imagens que enviarem serão todas (as que respeitarem as regras anteriores) colocadas num album que vamos criar na nossa página de facebook
Quando carregarmos as fotos, avisamos para que possam votar na vossa preferida e poderem angariar votos com os vossos amigos. Estamos a contar fazê-lo no dia 8 de Dezembro, ok? 🙂
5. A foto com mais LIKES até o dia 15 de Dezembro ganha este fantástico Mega Kit de Natal Style it Up
 4. A foto/montagem que mais gostarmos será a grande vencedora do passatempo!
Resumindo: enviem as vossas fotos (imagens, montagens, etc) até dia 7 de Dezembro, nos dias seguintes publicaremos na nossa página de facebook e terão até dia 15 de Dezembro para as votações (likes na foto que mais gostam).
No dia 16 de Dezembro anunciamos o grande vencedor, que será, obviamente, quem conseguir ter angariado mais LIKES 🙂
Aqui fica a listinha completa dos produtos que contém este mega kit:
1. Bolas de Natal LEGO | 2. Creme-gel de dia e noite Magnificence da LIERAC | 3. Creme de olhos Magnificence Yeux da LIERAC | 4. Body-Slim Drainage LIERAC | 5. Hydra-body Scrub da LIERAC | 6. Sérum reparador para pontas Phytokératine da PHYTO | 7. Spray Reparador Thermo-Actif Phytokératine da PHYTO | 8. Paleta de Maquilhagem com 78 cores para pálpebra e blush da PB COSMETICS | 9. Termo ventilador da FLAMA | 10. Galochas Red Laces Cream da I LOVE GALOCHAS | 11. T-shirt BOOM BAP | 12. CD Katy Perry | 13. CD Lady Gaga | 14. School House Box da THE BODY SHOP | 15. Secador de cabelo profissional REMINGTON | 16. Palete Smoky Eye THE BODY SHOP | 17. Blush pearl THE BODY SHOP | 18. Back XS PACO RABANNE para Senhora | 19. Black XS de PACO RABANNE para Homem | 20. 212 VIP CAROLINA HERRERA para Senhora | 21. 212 VIP MEN CAROLINA HERRERA
Já podem participar! Apenas uma vez, por favor.
Nota: o passatempo só é válido para quem vive em Portugal (continental e ilhas) e a vencedora (ou vencedor, claro!) será anunciado aqui no blog, no dia 16 de Dezembro.
P.S. Hoje vamos TODAS dar os PARABÉNS à CAT!! 🙂
EDIT: Meninas, atenção! Não queremos meninas insatisfeitas desse lado (afinal este passatempo é a pensar em vocês! ;D) e, por isso, decidimos fazer uma pequenina alteração nas regras do jogo! A foto vencedora será eleita por nós e não pelo maior número de LIKES! Queremos ver essas fotos! Toca a participar! 😉