Sempre que um maquilhador me maquilha é certo e sabido que vai usar um lápis para o contorno de lábios, mas a verdade é que raramente o uso! Mas devia! O lápis de lábios está para o batom como o top coat está para o verniz! E o melhor de tudo: um resultado é duplamente fantástico: lábios incrivelmente cheios e volumosos!
3 razões para usar um lápis de lábios:
 – Porque intensifica a cor do bâton, seja ele de que cor for!- Porque aumenta a durabilidade do batom- Porque garante que o batom mais glossy não borra!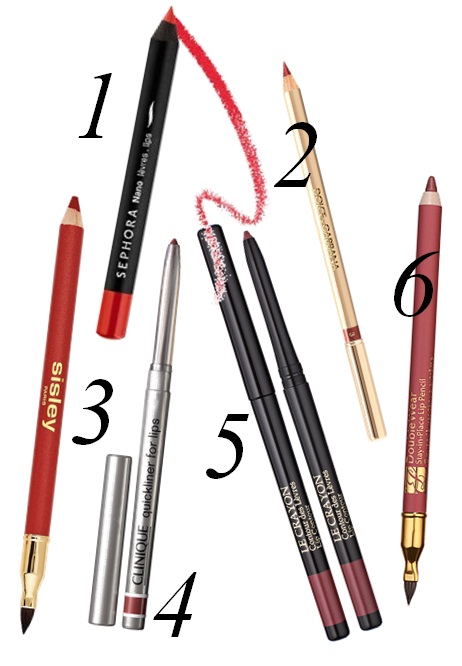 1. Nano lip liner, SEPHORA COLLECTION 2. Precision lip liner, DOLCE&GABBANA 3. Phyto Lèvres Perfect, SISLEY PARIS 4. Quickliner for lips, CLINIQUE 5. Le Crayon, LANCÔME 6. Double wear stay in place lip pencil, ESTÉE LAUDER
DICA de aplicação: escolher sempre um lápis da mesma cor do batom e aplicá-lo antes, contornando os lábios.
___Lip liner is to lipstick what  base coat is to nail polish! It really make your lipstick look better and last all night without reapplication.