As opiniões dividem-se! Há quem goste mais de batom, há quem prefira o gloss e há quem goste dos 2! Mesmo com acabamentos diferentes, eles podem até conviver juntos e criar uns lábios de sonho!
O gloss é ideal para quem gosta de lábios com mais volume e muito prático quando queremos mudar de visual do dia para a noite, com cores menos ou mais intensas.
O batom, e neste caso, o mate, além de ser uma forte tendência da estação, é um clássico da maquilhagem. Mesmo sem brilho, de discreto não tem nada! As meninas mais ousadas vão gostar dele de certeza! Nude para o dia, vermelho para a noite! Para evitar exageros, o truque é passar com um lápis no contorno e usar um pincel para preencher o interior. Se borrar, experimentem uma caneta concealer para remediar!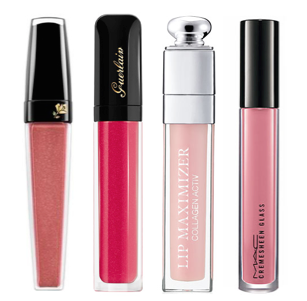 Gloss L´Absolu Crème de Brillance, Lancôme // Gloss D´Enfer, Guerlain // Gloss Dior Addict Lip Maximizer, DIOR // Gloss Cremesheen Glass, MAC
Pure Matt Lipstick, Nars // Pure Color Lipstick, Clavin Klein // Long Last Soft Matte Lipstick, Clinique // Lip Color Shine, Tom Ford // Rouge volupté shine lipstick, YSL
While some prefer lipstick, others are more fan of lip gloss. Even with different finishes, they can live together and create dream lips! The gloss is quite practical if you want to make a switch from day to night and is perfect for those who like more volumes lips. The lipsticks, special the mate finished ones, are a big trend this season for a classical makeup look. Try the nude ones during the day and a use bold red lips at night. For perfect red lips, use a pencil to outline the lips and a brush to fill the interior.
 Facebook, Instagram e Bloglovin´