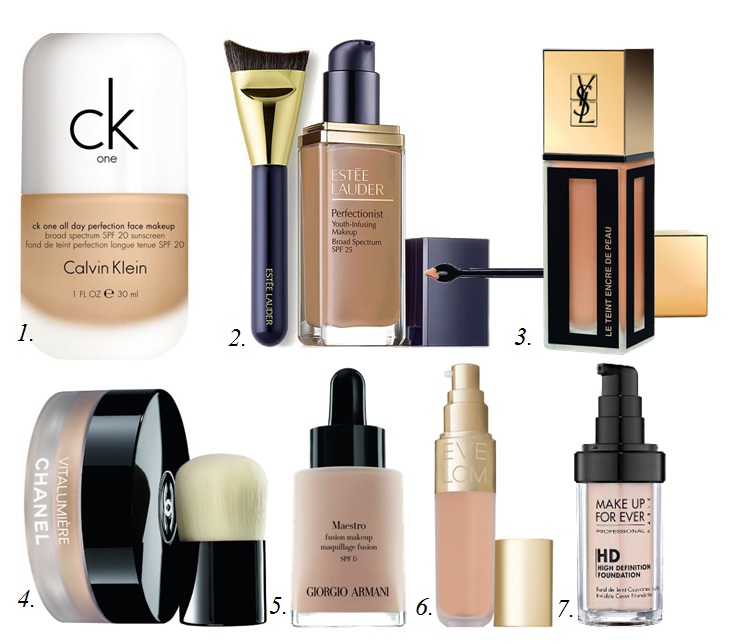 As bases estão a mudar! Não só uniformizam e iluminam a tonalidade da pele como tratam e protegem o rosto. Conheçam as melhores no mercado:
1. All Day Perfection Face Makeup SPF 20, CK One. Máxima cobertura, proteção diáriam e 24 horas de duração.Com FPS20  protege a pele de futuros danos, deixando um acabamento impecável.30€ (Em perfumarias)A high performance foundation that provides ultimate wear, coverage and comfort. It has medium to full buildable coverage, with a flawlessly soft plus smooth velvet finish that stays true from 24h.
2. Perfectionist Youth Infusing Makeup Braod Spectrum SPF25, Estée Lauder. Com a fórmula anti-envelhecimento do já conhecido serum Perfectionist, deixa a pele imediatamente mais luminosa, vibrante e com uma aparência mais jovem.52€ (Em perfumarias)A breakthrough makeup that's infused with Perfectionist antiaging serum technology that Instantly brighten skin with this innovative formula from Estée Lauder.
3. Teint Encre de Peau, Yves Saint Laurent. Leve como uma pena e sem alterar a cor durante todo o dia, contém uma nova tecnologia híbrida, uma cobertura ultra-fina, um conforto top e a duração idela!47,50€ (Em perfumarias) YSL's new 'Fusion Ink Foundation' delivers flawless coverage that lasts up to 24 hours, while still feeling ultra-light on your skin.
4. Vitalumiére Fond De Teint Poudre Libre SPF 15, Chanel. Em formato pó solto garante uma luminosidade perfeita à tez. Incorpora ainda um pequeno pincel ideal para retocar duirante o dia e destacar certas zonas do rosto.65€ (Em perfumarias)It unifies the complexion, with a natural sheer matt finish, and disguises imperfections without emphasising lines. The unique dispenser puts exactly the right amount of powder onto the cotton velvet puff, for a perfect natural finish.
5. Le Perfecteur de Teint Révolutionnaire Maestro, Giorgio Armani. Esta fórmula ultra-leve muito fácil de aplicar, deixa a pele hidratada e impecável com apenas uma gota de produto. Acabamento natural.60€ (Em perfumarias) This ultra-lightweight formula applies easily with an unforgettable sensation, leaving skin moisturized and conditioned for a flawless complexion with just one drop. Pure color pigments fuse to the skin for coverage with a no-makeup feel. Buildable coverage with a natural finish.
6. Radiance Lift Foundation SPF 15, Eve Lom . A base de extractos de plantas e vitaminas, esta base efeito flash restaura a elasticidade da pele que se traduz numa maior luminosidade do rosto.66€ (Na Skinlife)Advanced actively anti-aging foundation that treats your skin to a long lasting weightless veil os silky, hydrating comfort.
7. HD Invisible Cover Foundation, Make Up For Ever.Oil-free e com uma cobertura das imperfeições perfeita é ao mesmo tempo natural e muito confortável na pele.34€ (Exclusivo das lojas Sephora)An oil-free medium-to-full-coverage liquid foundation that covers skin imperfections flawlessly while remaining invisible on-screen and in real life.