No inverno há sempre aquela tendência de deixar o cuidado dos pés para trás! WRONG! Eles merecem sempre a nossa atenção, seja em que altura for! E porque não começar já a prepará-los para os dias mais quentes?Algumas ferramentas que vão precisar: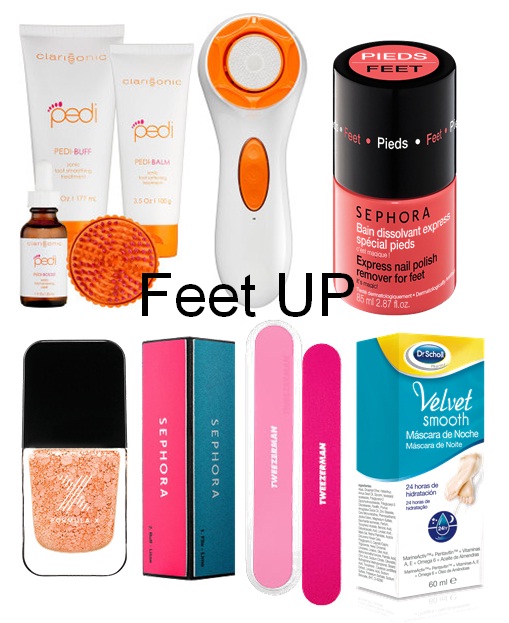 (da esquerda para a direita)Pedi Foot Transformation Set, Clarisonic. A famosa Clarisonic também para os pés! Especialmente concebida para suavizar e hidratar os pés mais secos!Pena ainda não ter aterrado em Portugal :(Bain Dissolvant Special Pieds, Sephora. Remove até o verniz mais dificil sem deixar rasto de verniz antigo! Super prático e fácil de usar nem precisamos de algodão!Verniz, Fórmula X. Numa cor já a sonhar com o verão! (exclusivo Sephora)Nail Buffer Block, Sephora. Para garantir que as unhas ficam lisinhas, lisinhas antes do verniz!Pink Perfection Filemate Nail File, Tweezerman. Uma lima que vem com uma embalagem, perfeita para levar de viagem e ter na carteira!Velvet Smooth Máscara de Noite, Dr. Scholl. Graças a uma nova fórmula inovadora, esta nova máscara de noite ofrece aos pés a humidade e hidratação necessárias durante 24 horas. Pés de princesa ao acordar!
E 3 coisas que devem saber:1. Mesmo que as unhas não estejam pintadas deve sempre começar por limpá-las com um disco de algodão embebido em removedor de verniz. Assim garantem que estão limpas de qualquer sujidade, resíduos de creme, etc.
2. Resistam à tentação de retirar todas as cutículas – e aqui falo mesmo por experiência própria – a partir do momento em que me limitei a empurrar as cutículas e a hidrata-las diariamente, as peles crescem menos e o risco de infecções é bem menor!
3. Se têm as unhas meio amareladas experimentem deitar duas a três gotas de sumo de limão ou óleo de lavanda na superfície da unha e polir com uma lima para remover a mancha. Resulta mesmo!
Há por aí alguém a fazer a pedicure em casa! Outras dicas para partilhar?___How to prep your feet for spring? Here are the best tools to manage it: Pedi Foot Transformation Set, Clarisonic. A precision-engineered pedi system for the ultimate at-home foot-care regime. Designed to smooth and soften dull, rough feet at home or between professional pedicures. Instant nail polish remover for feet, Sephora. A nail polish remover that leaves no trace of past polishes even the most hard-to-remove nail polish. To be used without cotton pads. Nailpolish, Formula X. Nail Buffer Block, Sephora. A colorful tool for filing, buffing, polishing, and shining nails to perfection. Pink Perfection Filemate Nail File, Tweezerman. A dual-grit nail file with a plastic case. Velvet Smooth Night Mask, Dr. Scholl. A nourishing night time treatment for your feet with Pro-Vitamin B5 and Vitamin E that helps to stimulate cell regrowth for super-soft and beautiful looking feet.