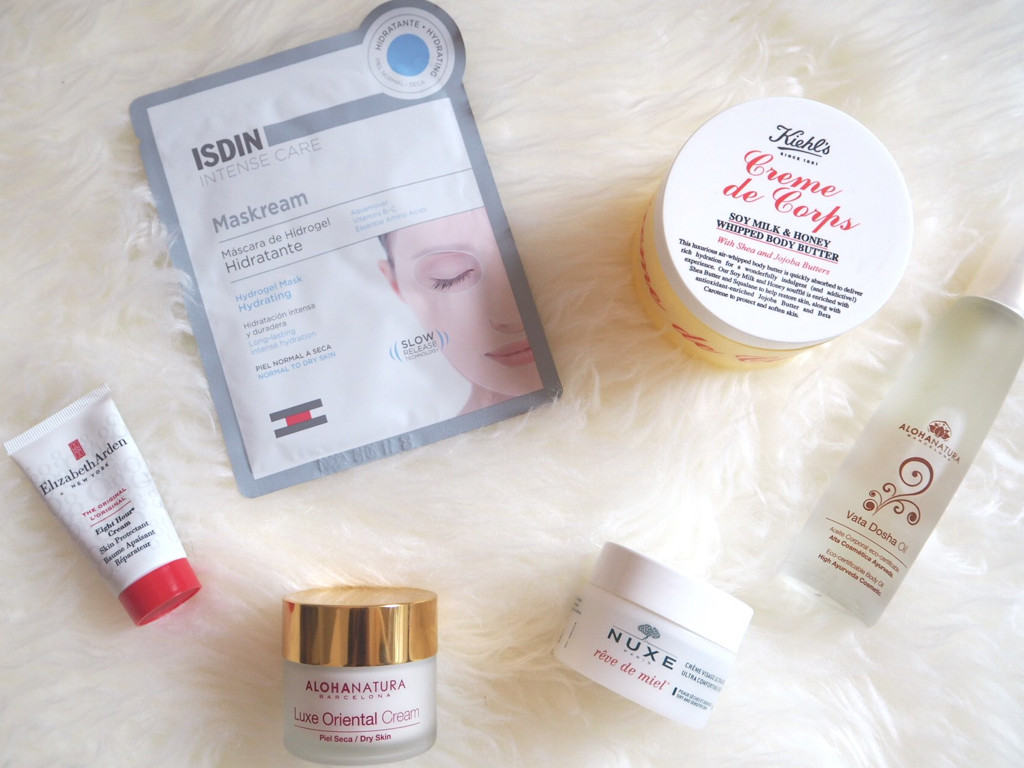 Pele seca tem que ser bem cuidada – assim como todos os outros tipos de pele, obviamente!
Seleccionei alguns produtos de rosto e corpo, perfeitos para manter a nossa pele bonita e hidratada:
1. Eight Hour Cream, ELIZABETH ARDEN – podem usar como máscara e retirar ou usar à noite como tratamento reconfortante. A pele acorda maravilhosa! É daqueles produtos que tenho sempre.
2. Máscara hidratante Maskream da ISDIN, para um boost de hidratação da pele. Basta retirar a máscara da embalagem, encaixar no rosto e deixar actuar por 20 minutos. Depois, fazemos uma massagem com o resto do produto que ficou. Um mimo para fazer em casa.
3. Luxe Oriental Cream para pele seca da ALOHANATURA Barcelona – um produto 100% natural, composto por ingredientes vegetais que ajudam a manter a pele perfeita e nutrida. Pode ser usado de manhã e à noite. Deixa uma ótima sensação de conforto na pele.
4. Creme de rosto ultra-conforto rêve de miel da NUXE – indicado para peles secas e sensíveis, apazigua, repara e protege a pele das agressões externas. Nutre intensamente a pele todas as manhãs. Não contém parabenos.
5. Manteiga corporal soy milk & honey whipped body butter, da KIEHL'S – com manteiga de jojoba, hidrata profundamente a pele do corpo, para que se mantenha suave. A textura é tipo um soufflé e o produto é rapidamente absorvido pela pele.
6. Óleo corporal Vata Dosha ALOHANATURA Barcelona – pode ser usado sozinho ou misturado com o hidratante de corpo habitual, deixa a pele incrivelmente hidratada e ajuda a prevenir as estrias. Ideal para uma pele cuidada. Sem aromas sintéticos e sem conservantes químicos na sua composição.
_____
Some products I like to take care of my dry skin, for face and body.
Instagram @styleitup