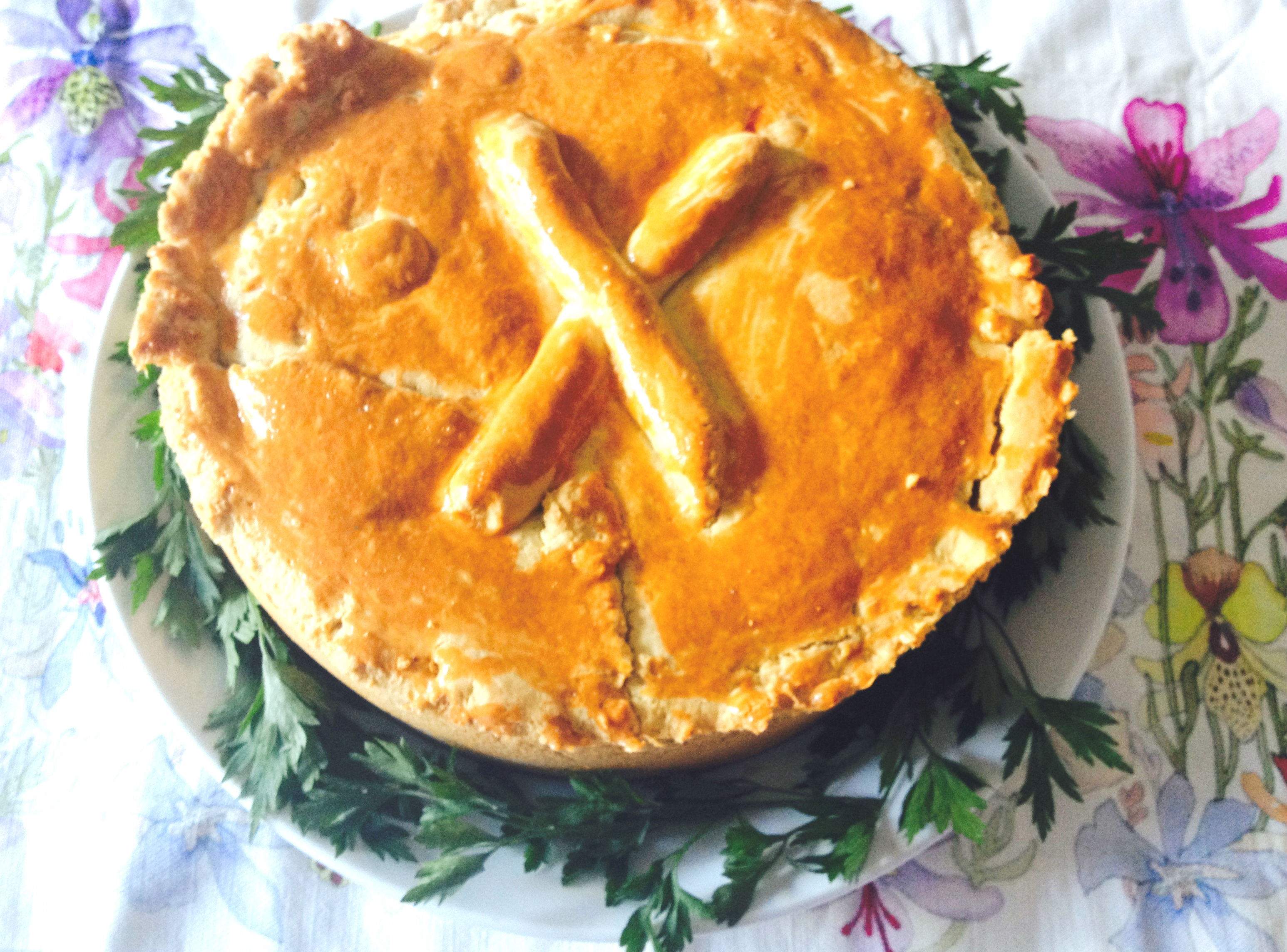 Depois de ter partilhado o meu ataque como Fada do Lar do mês (sim, dá-me poucas vezes!) no Instagram no outro dia, muita gente pediu a receita, então cá vai a receita da empada de frango.
Foi a loucura e até fiz a massa e tudo! Não é a receita mais light deste mundo, mas acho que também não é nada de preocupante… ora cá vai:
Ingredientes da massa (receita da Bimby): 1 ovo, 50g de àgua, 50g de azeite , 50g vinho branco, 80g margarina, 40g fermento, 450g farinha, sal. Fiz a massa na Bimby, não sei como se faz manualmente… também não podem esperar tanto de mim na cozinha! ahah
Podem sempre comprar a massa já feita no supermercado, que é mais fácil! Normalmente compro, mas a preguiça de sair de casa falou mais alto…
Ingredientes do recheio: 1 embalagem de peito de frango do campo, 1 embalagem de cogumelos frescos, 1 cebola, 3 dentes de alho, 1 cenoura, salsa a gosto, 100g de vinho branco, 2 gemas de ovo, 50g de azeite, 80g de farinha, cebolinhas (aquelas das latas de vidro, de pickles) a olho, azeitonas (as que preferirem) a olho, sal e pimenta. 1 ovo para pincelar.
O recheio pode perfeitamente ser feito sem ser na bimby ou outra máquina semelhante. Fiz num tacho mesmo. Na picadora, picamos a cebola, o alhos, a cenoura, as azeitonas e a salsa. Deitamos tudo num tacho e e refogamos com o azeite. Cortamos o frango aos bocadinhos pequeninos (depois de retirar a gordura) – também o podem picar, como preferirem! – e juntamos ao preparado anterior, juntamente com os cogumelos aos quadrados. Quando o frango estiver mais ou menos alourado, juntamos o vinho branco e temperamos com sal e pimenta. Juntamos a farinha e mexemos até se fundir com o resto. Misturamos as duas gemas de ovos e misturamos tudo novamente, sempre com o lume aceso.
Estendemos a massa (se a fizerem em casa, convém repousar uns 30 min) e forramos a forma (uso aquelas formas em que o fundo sai, sabem?), deixem um pouco de massa para tapar. Colocamos o recheio na forma e no final tapamos com a massa que deixámos de parte. Pincelamos com um ovo e uns 20/30min no forno et voilá! Acompanhei com salada.
A receita é adaptada da Empada de Galinha da Bimby, mas acabo sempre por inventar e até achei esta mais saborosa. Depois logo me dizem, se fizerem!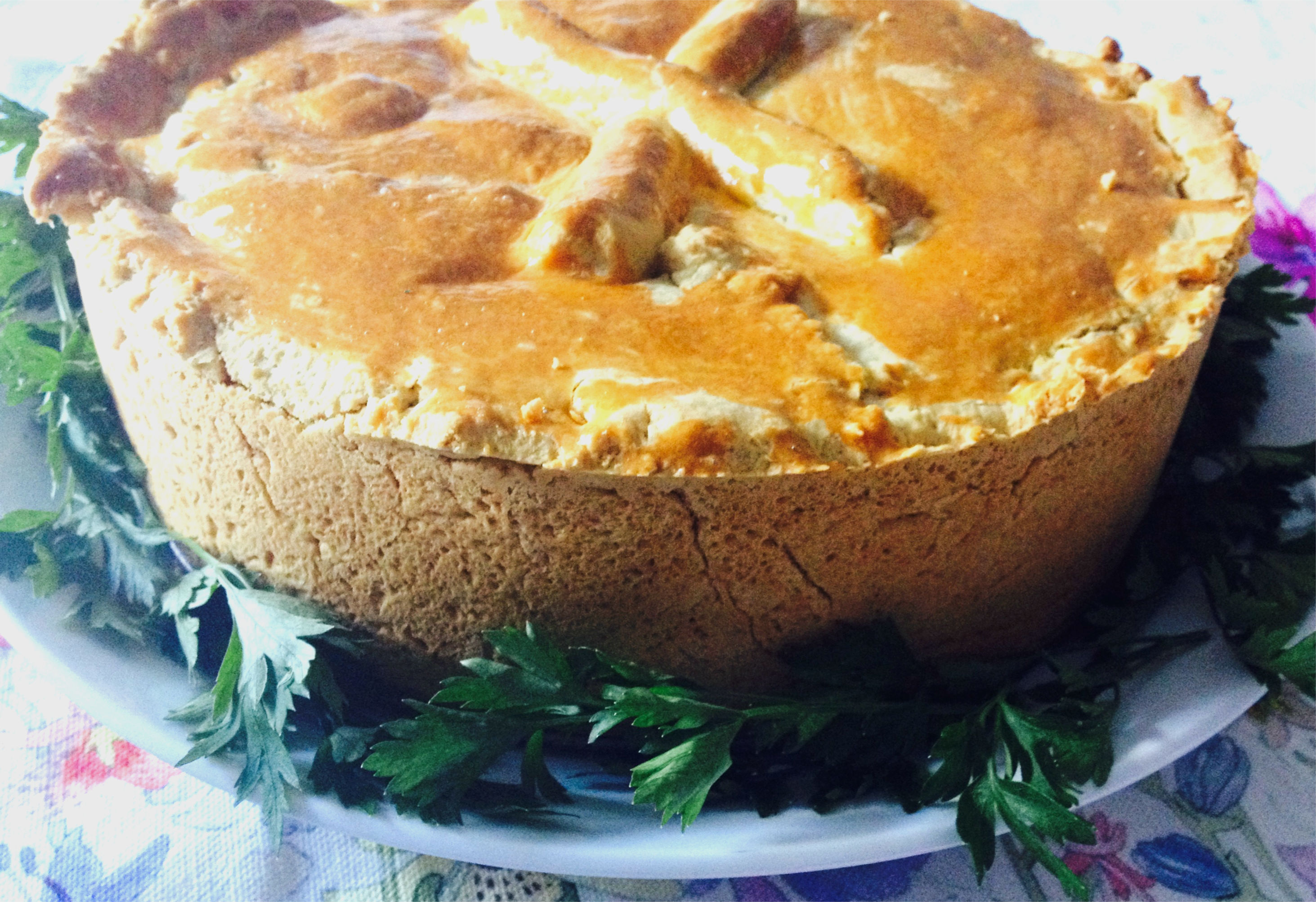 Não ficou com um aspeto mega espetacular e profissional, mas garanto que ficou super saborosa!
The other day I tried to do something different for dinner. I made this chicken pie and it was delicious! Ingredients: 1 chicken (without bones – I bought a pack of chicken breast), fresh mushrooms, 1 onion, garlic, 1 carrot, parsley, 100g of white wine, 2 egg yolks, 50g olive oil, 80g flour,  olives, salt and pepper. 1 egg to glaze. How to do it: chop the onion, garlic, carrot, olives and parsley. Throw everything in a pan with olive oil and cook it. Cut the chicken in little bits. Join to the previous mixture along with the mushrooms. Join the white wine and flavor with salt and pepper. Mix two egg yolks and mix it all over again. Extend the mass and put it in a form (leave a little beat to seal the pie) and fill it with the preparation. Cover and put it in the oven for about 20 minutes.