Hora de fazer as malas e viajar por uma só noite? Quem sabe aproveitar o fim-de-semana que já já está ai… Juntei os meus favoritos de makeup quando a regra é less is more!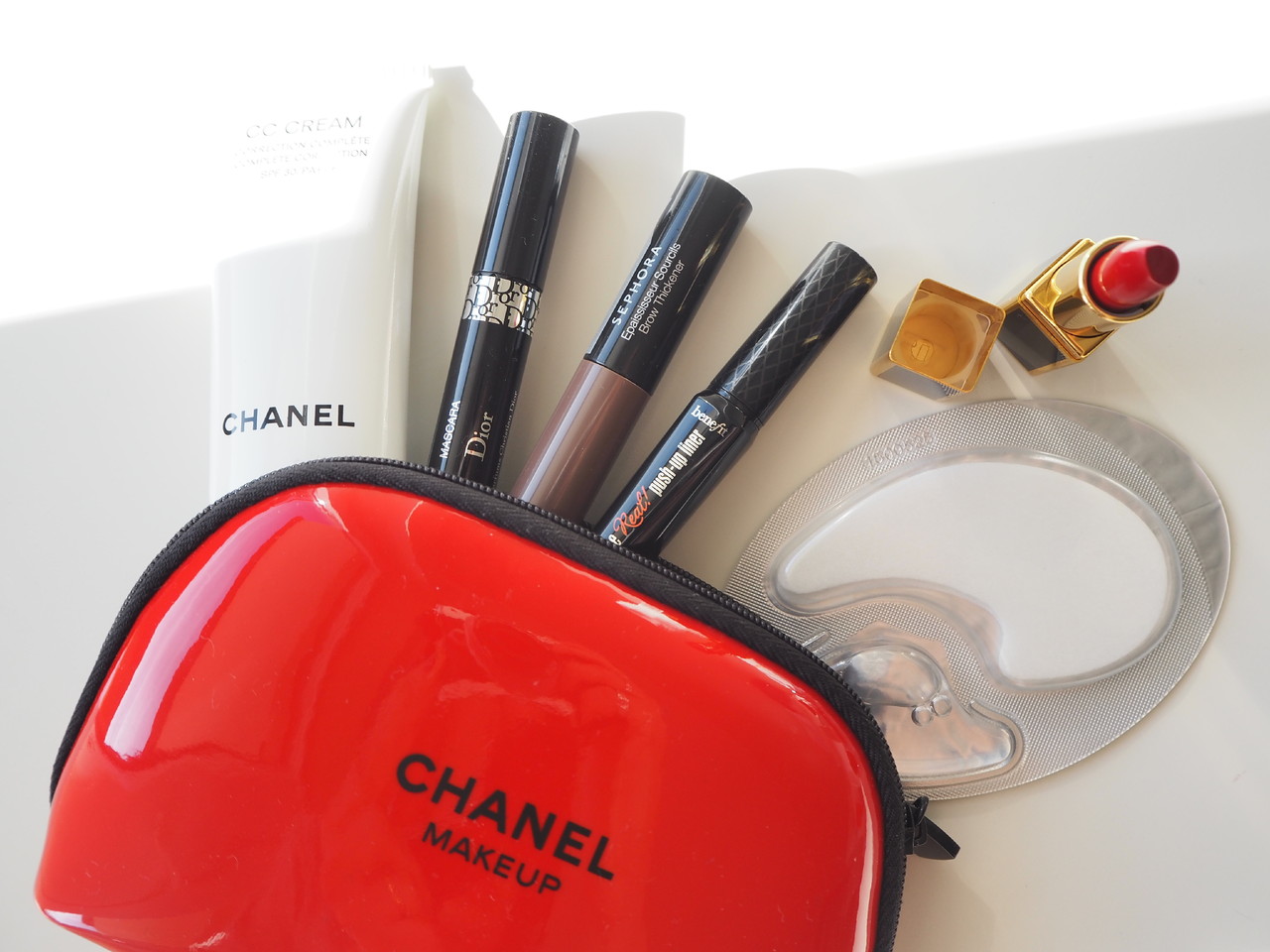 CC Cream CHANEL. Para um rosto com zero imperfeições e uma tez fresca e natural. Está normalmente reservado às viagens porque o seu efeito dura, dura e dura! É um bom investimento 🙂
Máscara de pestanas DIOR. Não me lembro onde comprei, mas sei que anda sempre comigo em viagem. É muito prática e faz um pestanão!
Brow Thickener SEPHORA. Um frasquinho mini que faz as nossas sobrancelhas parecerem maxi! Em pó! A-d-o-r-o (e ultimamente ando fanática com produtos deste tipo!).
They´re Real Push-Up Line BENEFIT. O mais famoso eyeliner da Benefit em tamanho mini para aquele risco preto perfeitinho e por 24 horas!
Batom TOM FORD. Num vermelho clássico, lindo de morrer! (podem usar o batom como blush. – pequena quantidade ok? 🙂
Extreme Eye patch REXALINE. Apaga todos e quaisquer sinais de cansaço: olheiras, papos e outros que tais, depois de uma longa viagem! 
Querem partilhar os vossos?
___
Travelling for just one night? Here´s what you have to have: 
Make-up essentials: 
CC Cream, CHANEL. Perfect to camuflage any imperfection. It´s a good investment! 
Mascara DIOR. I can´t remember where I bought it, but it is one of my favorite. 
Brow Thickener SEPHORA. A powder liner to structure, intensify, and thicken brows. Just perfect!
They´re Real Push-Up Line BENEFIT. The most famous eyeliner from Benefit that lasts for 24 hours.
Lipstick TOM FORD. In the most beautiful red! 
Extreme Eye patch REXALINE. Moisturize, smooth, and decongest the delicate eye contour area. 

Instagram: @styleitup.cat