Não precisam de abdicar dos produtos de beleza quando a carteira não está nos melhores dias! Tomem nota das novidades low cost da semana: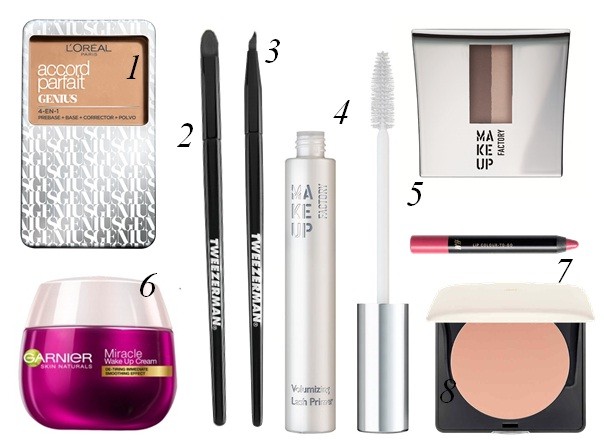 1. Accord Parfait Genius L´Oréal Paris. A base 4 em 1 que funciona como um primer, é super fácil de aplicar (como uma base líquda), cobre imperfeições como um corretor e tem os resultados de um pó compacto. 17,65€
2 e 3. Pincel Corrector pontiagudo e pincel eyeliner, Tweezerman. Os pincéis favoritos de Kim Kardashian e usados por maquilhadores profissionais estão finalmente em Portugal! São fabricados com fibras 100% vegan.  (15€ / 14€)
4. Volumizing Lash Primer, Make Up Factory.  Volume,definição, fixação e sobrancelhas moldadas com um só produto!.22€
5. Sombra Make Up Factory
6. Miracle Wake Up Cream, Garnier. O 1º creme que elimina os principais sinais visiveis de fadiga para uma pele visivelmente saudável durante todo o dia. 13,99€
7. Batom H&M. Da renovada linha de makeup da H&M que traz novas cores e novas texturas. 5,99€
8. Pó aperfeiçoador H&M. Para matificar acabar com os brilhos extra. 9,99€
___
No need to deprive yourself of some beauty goodies. Here are 8 new low cost beauty products.
Instagram: @styleitup.cat