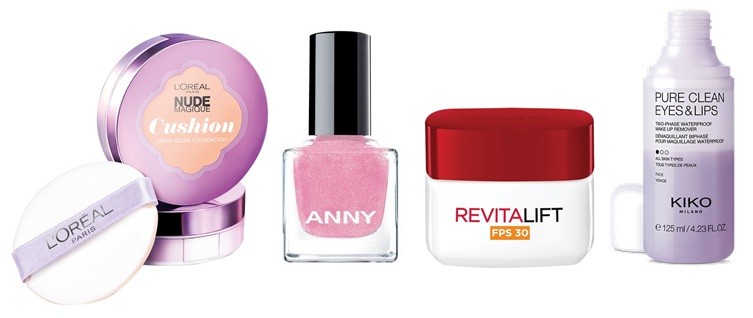 E chegamos a mais um final de semana (yeahh!) com um beauty low cost, focado no rosto e unhas!
Tomem nota do que há de novo a preços muito simpáticos:
Nude Magique Cushion, LÓréal Paris 17,99€. Aplicado com pequenos toques sobre a pele, garante um resultado super natural.
Verniz da coleção Aloha Hawai, Anny. 6,50€. São 6 as cores desta nova coleção, todas irresistiveis!
Revitalift FPS30, L´Oréal Paris 15,99€. Promete acabar com as rugas dificeis, mesmo as causadas pelo sol.
Desmaquilhante bifásico Kiko 6,90€. Remove a maquilhagem dos olhos e dos lábios de forma segura e eficaz, sem deixar  vestígios de oleosidade na pele.
___
Beauty lowcost this with some new skin and nail products. Check it out !
Instagram: styleitup.cat